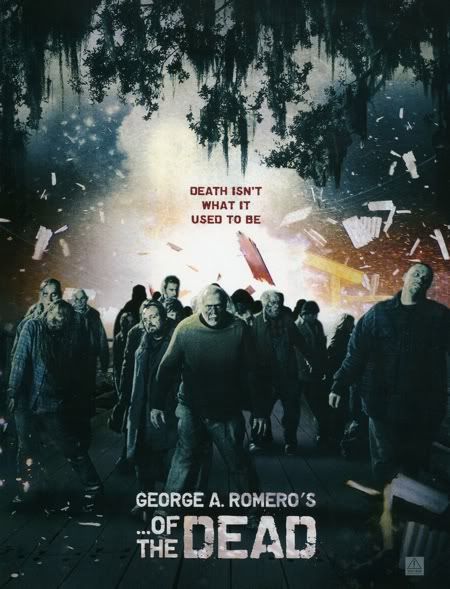 Well folks, I finally got to see George A. Romero's Survival of the Dead, which I've been very excited about for a long time. Mr. Romero is my favorite director and I always look forward to his movies. Truth be told, I was a little nervous that after making so many, he'd run out of ideas and this one would fall flat. But after watching it, I'm proud to say, he's still got it!
Survival of the Dead follows the story of the ex-soldiers from Diary of the Dead (the ones that robbed the main characters of that title). After watching their brothers in arms fall and then rise again one too many times, the 4 decide that they'll be better off on their own and desert. They come to meet a man who has a score to settle on a nearby island, and they all sail over under the premise of starting a zombie free life.
Near the beginning of the movie, there's a really bad exploding head effect, which lead me to think that we were in 'B' Movie territory (and we all know that modern b movies aren't as good as the oldies were.), but that was the last of the cheese. The rest of the gore checked out beautifully.
I was happy to see Athena Karkanis in a lead role. She was previously on a show called 'The Best Years' and she had a small role in Repo! The Genetic Opera. The Best Years was a flop, and I was hoping to see more of her acting in roles without the over-dramatic teen writing. Kudos to Mr. Romero for finding this obscure, talented young woman.
Overall, I am overjoyed to give Survival of the Dead 5/5 skulls. Keep 'em comin' George!